Investigate your crime-solving potential
As a criminal justice major at the University of New Haven, you'll join one of the nation's most established and diversified criminal justice programs. It's a program that allows you to customize a major that fuses your interests with pragmatic, sought-after learning opportunities that will lead you to a successful and fulfilling career in this challenging and rewarding field.
You will gain an acute understanding of crime-solving and public safety issues as you learn to not only navigate the intricate fields of criminal justice but also shape the future of our justice system.
Concentrate on What Interests You
Supplement the knowledge you gain in your core criminal justice classes by specializing in an area you are most passionate about.
Correctional Rehabilitation and Supervision
Emphasizes law, social and behavioral sciences, and research methodology and prepares you for careers with federal, state, and local correctional agencies and institutions.
Crime Analysis
Focuses on the application of advanced computer and geographical information systems (GIS) in the collection and analysis of crime data.
Crime Victim Services
Prepares graduates for entry into a wide variety of positions in law enforcement, criminal justice, the courts, corrections, and victim services programs as well as professional settings involving work with victims of crime, their families, and the community at large.
Investigative Services
An interdisciplinary program geared toward enhancing the scientific knowledge of those students seeking investigative positions in various enforcement agencies, the curriculum emphasizes law enforcement, evidence, and forensic science.
Juvenile Justice and Delinquency Prevention
Prepares service providers with knowledge of law and of social and behavioral sciences, as well as communication skills with children, adolescents, and people of diverse cultural backgrounds.
Police Science
The curriculum focuses on the roles, activities, and behaviors of people with regard to maintaining law and order, providing needed services, protecting life and property, and planning and research.
In addition, you'll:
Develop skills that will help you more quickly solve crimes and bring perpetrators to justice
Understand the psychology behind the criminal mindset
Study in up-to-the-minute facilities and labs housing technologies that are more advanced than the ones found in most police agencies across the country
Translate classroom theory into practice through unprecedented internships and co-op opportunities in law enforcement, the courts, corrections, and more
Be part of a prestigious alumni network known for its career support and student involvement
Read More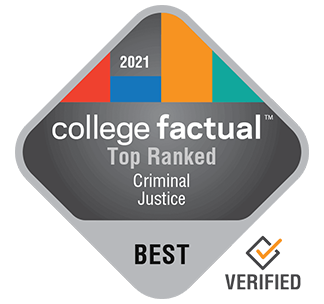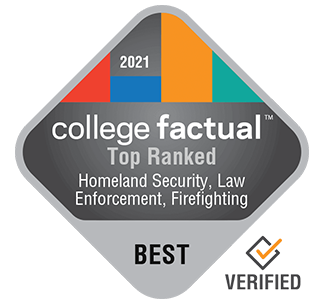 College Factual's data-driven rankings are based on outcomes — such as graduation and retention rates and early and mid-career earnings of graduates — instead of subjective opinions garnered through insider surveys. In addition, all colleges are ranked, not just the top 100.
College Factual has ranked the University of New Haven #1 in the country out of more than 400 colleges and universities offering homeland security, law enforcement, and firefighting majors and #1 in the state and #18 in the country for criminal justice and corrections degrees.
Learn from professors who are dedicated to your success.
Our faculty are leaders and innovators in their fields, bringing both deep professional experience and academic rigor to the classroom.
Envision Your Future
The information below is designed to show the many possible careers you could pursue with your major. The research is provided by Encoura, the leading research and advisory firm focused exclusively on higher education. It includes median national salaries and industry growth projections over the next decade. Click here to view the full report.
$80K
First-Line Supervisor
6% Growth 2017-2027
$66K
Police Officer
6% Growth 2017-2027
$63K
Claims Adjuster
6% Growth 2017-2027
Charger Advantage
Get an inside look at what differentiates the University of New Haven and how your experiences as a student will prepare you for success.
Nationally Recognized Center for Career Development
All University of New Haven students have access to the many resources available through the University's Career Development Center, which has been named one of the best in the nation by The Princeton Review.
From career assessments, networking, and job shadowing to on-campus interviews and salary negotiation, the Career Development Center provides the skills and connections to identify a meaningful career and an opportunity to pursue your passion.
Learn More