Sheahon Zenger, Interim President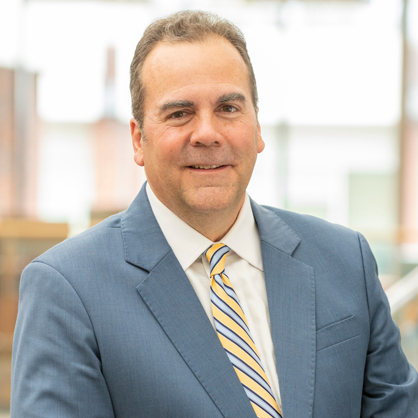 As Interim President, Dr. Zenger is the public-facing community leader of the University, overseeing many of the day-to-day operations and interfacing with the student community. Additional areas of responsibility include University branding, revenue generation, and the implementation of "A Bold Path Forward: 2026 Strategic Plan."
Dr. Zenger brings to the presidency nearly 30 years of experience in administration, development, coaching and academia. Since joining the University in 2019, Dr. Zenger has been an effective and well-respected leader who has played a key role in the strategic planning process and who has been adept at building relationships with internal stakeholders, decision makers, and donors.
As the University of New Haven's director of athletics and recreation, he led all fundraising, recruitment and hiring initiatives for Chargers athletics and recreation. During his tenure, he spearheaded the development of the Peterson Performance Center, a state-of-the-art 31,000 square foot facility that is entirely donor-funded, and he secured the principal gift for the complete renovation of Charger Gymnasium, which will be dedicated as the Jeffery P. Hazell Athletic Center.
He has led the University's exploration of transitioning its athletics program to Division I and the launch of the University's women's rugby, men's and women's golf, and esports programs. Since his arrival, the number of student-athletes has increased 25 percent to more than 500.
Prior to joining the University of New Haven, Dr. Zenger spent his career in higher education in significant leadership roles, including as an assistant to the chancellor at Texas Christian University.
At the University of Kansas, where he worked for eight years as director of athletics leading one of the most successful Division I athletics program in the country, he had responsibility for 350 full- and part-time staff members and a budget that grew from $69 million to approximately $100 million, and he oversaw the construction of nine new buildings and stadiums. In addition, he served as chair of the Big 12 Conference Directors of Athletics, while simultaneously serving as co-chair of the University of Kansas Diversity, Equity, and Inclusion Committee.
Dr. Zenger has experience in both academic and athletic leadership throughout his career, and he has continually looked for opportunities to foster collaboration, including creating innovative leadership development and networking opportunities for students. Twice during his tenure at the University of Kansas, the athletics department set a record for the program's highest cumulative GPA.
Through his career in education, Dr. Zenger is continuing a family legacy. Both of his parents were teachers who went on to earn their doctorates in educational administration. They taught for years at colleges in their home state of Kansas. Between them, they wrote eight books and dozens of journal articles about curriculum development and teaching
Dr. Zenger earned a Ph.D. in educational policy and leadership at the University of Kansas. He earned both a master's degree in journalism and mass communications and a bachelor's degree in English/secondary education at Kansas State University.
Dr. Zenger's wife, Pam, is an elementary school teacher in West Haven, Conn., and they have three children.